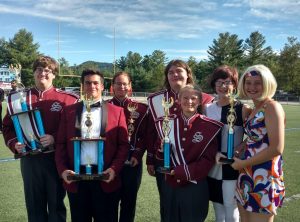 Owen – The Swain Marching Band competed at Owen High School on Saturday October 14 and received the following awards:
1st place Music, 1st place in class, 2nd place guard and percussion. The band also received the Spirit of the Valley award which is for the band that exemplifies the Spirit of what a true marching band should be. This award is given to only one band at the competition chosen from all bands competing.
Pictured from Left:
Zach Winchester, Harlie Hyatt, Guy Phelps, Jack Cooper, Hayley Cacciotti, Lila Cagle and Summer Davis.