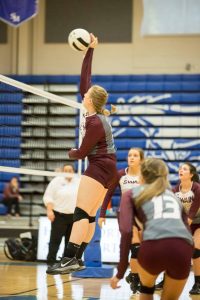 Murphy – Swain was beaten in straight sets in their final match of the regular season Tuesday.  Murphy took the match 25-13, 25-21 and 25-12 to cap an undefeated regular season and clinch the Smoky Mountain Conference Championship.
Sophomore Taylor Collins led Swain with 8 kills and 6 blocks on the evening.  Grace Cabe finished with 6 kills and 9 digs. Alissa Smith and Makayla Riordan had 6 digs each, while Brette Pattillo added 5.  Ashton Younce finished with a team high 18 assists.
Swain must now wait until the playoff brackets are released to know what happens next for them.  The NCHSAA has gone to a new playoff system that includes only 48 teams for 1A.