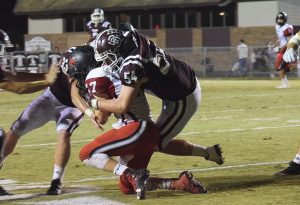 Bryson City – Friday the Maroon Devils put together their most complete game of the season as they downed Andrews 48-18.  Swain scored in every quarter, didn't turn the ball over and finished the night with only 2 penalties.  On top of that the Devils exercised another demon by outscoring Andrews 14-0 in the 3rd quarter.
In the first half the Maroon Devils scored four times.  Swain got two touchdown runs from Ian Brooks, both on 2 yard plunges.  Brodie Bowman hit Brier Younce for 2 more touchdowns.  The first covered 46 yards and the second was 14 yards.  With Holden Petty out with an injury, Tanner Wiggins stepped into kicking duties and made good on three out of four of his first extra point attempts.
The 3rd quarter has proven to be a harbinger of the game's outcome for the Maroon Devils.  Friday Swain outscored Andrews 14-0 in the 3rd.  Bryce Sain scored on a 5-yard run to open the quarter.  Then Bowman hit Younce for their 3rd touchdowns strike of the game, this one covering 15 yards.  Wiggins made both extra point attempts.
Colby Taylor closed the scoring for the Devils with a 4 yard run for the final score of the game.
Bowman paced Swain with 87-yards rushing on 10 attempts.  Through the air Bowman was 4 of 9 for 124 yards and 3 touchdowns.  All 3 of those strikes went to Brier Younce who finished with 3 catches for 75 yards, Zeke Bradley had the other catch, on a 49 yard pass that set up the Devils for their 3rd score of the game.
Wren Gunter anchored a stingy Maroon Devil defense.  Gunter finished with a game high 17 tackles, including a sack.  Ian Brooks had 9 tackles, while Nolan Brown and Sam Everhardt finished with 7 each.  Will Paul blocked a punt, and Logan Loftis had a sack, both of which were big plays in the game.