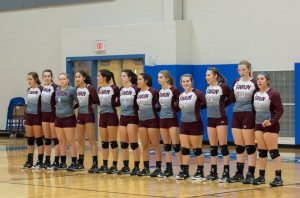 Andrews – The Lady Devils rebounded from a tough loss to Highlands on Tuesday by beating Andrews 3-1 on Thursday.  Swain outscored Andrews 25-17, 25-21, 21-25 and 25-20 to take the conference win.
Grace Cabe paced the Swain offense with 9 kills, while Kaitlin Anthony chipped in 5.  Makayla Riordan dished out 14 assists and Ashton Younce finished with 8.
Brette Pattillo finished with 13 digs on the backrow for the Devils, Cabe finished with 6, while Anthony and Alissa Smith had 5 each.